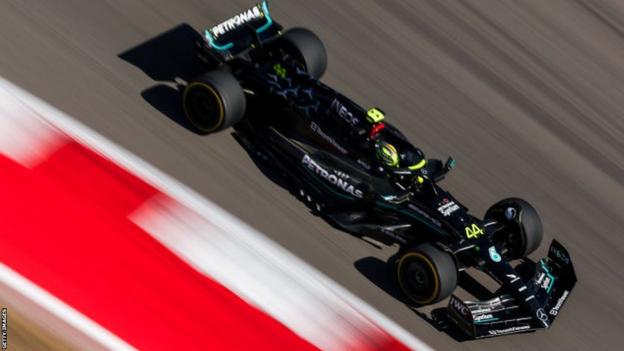 Max Verstappen climbed up from sixth on the grid to win the US Grand Prix after a close battle with Lando Norris and Lewis Hamilton.
Verstappen was measured, slowly picking off the cars in front of him and then managing his pace to take a 14th victory of his record-breaking season.
The Red Bull did not have the advantage it has had this year and Norris and Hamilton made him work for the win.
Hamilton closed in and passed Norris with six laps to go to take second.
Hamilton dummied for the inside at Turn One with seven laps to go and Norris defended with a late move.
The seven-time champion then got the cut-back on Norris on the exit of the corner and passed around the outside into Turn Two and set off after Verstappen, not quite doing enough to challenge for the lead by the end of the race.
The world champion had a five-second lead with six laps to go and, although he was managing brake problems that caused a series of exasperated and sweary radio messages, was able to keep the Mercedes at arm's length to the flag.
Charles Leclerc lost fourth place to team-mate Carlos Sainz in the closing laps after the team's choice of a one-stop strategy for Leclerc failed to work out.
Leclerc was ordered to let Sainz by, a decision he questioned over the radio even though he acquiesced.
But the reasoning was obvious – the Ferraris were being chased by Red Bull's Sergio Perez, who passed Leclerc on his fading tyres with ease with two laps to go
Mercedes' George Russell took seventh behind Leclerc.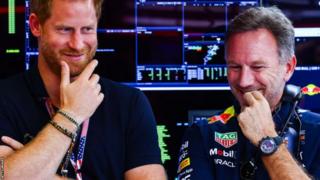 Celebrities and royalty arrived in the paddock for Sunday's race – including Prince Harry, left
How did Verstappen hold on?
Verstappen win was hard-earned in a Red Bull that over the bumps of the Circuit of the Americas did not have its usual huge advantage on race pace over its closest rivals.
The Dutchman, who started sixth, overtook Russell at the first corner as ahead Norris took the lead from pole-sitter Leclerc and Sainz demoted Hamilton to fourth.
Norris led the opening laps from Leclerc, Sainz, Hamilton and Verstappen, but Hamilton and Verstappen soon despatched the Ferraris to set up the three-way battle for the lead by lap 11.
Verstappen pitted for the first time on lap 16, when he was 6.5 seconds behind leader Norris, who had Hamilton less than two seconds behind him.
While Norris followed Verstappen in next time around, fitting the hard tyres rather than the mediums chosen by Red Bull, and retained the de facto lead, Verstappen turned the screw, closed in and passed the McLaren for the lead on lap 28.
It was a good move, Verstappen diving late to the inside from quite some way back, but the race was a long way from over.
Hamilton delayed his first stop until lap 20 and like Norris took the hard tyres, resuming 7.1secs behind Verstappen, who at the time was 2.5secs behind Norris.
Verstappen was now locked into a two-stop strategy while Norris and Hamilton had the theoretical chance to do a one-stop.
In the end, neither went for it, but Mercedes stuck with their off-set strategy by stopping Hamilton three laps later than Verstappen for the final time.
It set up a fascinating climax, with Hamilton six seconds behind Norris, and Verstappen a couple of seconds further ahead.
Hamilton complained that Mercedes had given him a lot of time to make up, and in the end he was right – although he closed relatively quickly on Norris, Verstappen was just out of reach.
Hamilton closed in and was two seconds behind Verstappen going into the final lap, an advantage the three-time champion was never going to lose.
Mercedes may ask themselves, given the pace Hamilton showed, whether they could have won the race had they kept Verstappen behind him at the first pit stops rather than going for the off-set strategy.
But Hamilton was encouraged by the pace of his car, which was fitted with its last major upgrade of the season.
Welcome to Triple Star News! I am your Editor, your go-to source for staying informed and up to date on a wide array of themes and topics. My dedicated team of journalists and reporters works tirelessly to bring you timely and comprehensive news coverage that caters to your diverse interests and curiosities. From current events and politics to technology, entertainment, health, and beyond, I've got you covered. I pride myself on delivering information in a clear, concise, and engaging manner, accessible to readers of all backgrounds. Join me on Triple Star News and embark on a journey of discovery, staying informed, and expanding your horizons. Let the world unfold before your eyes.