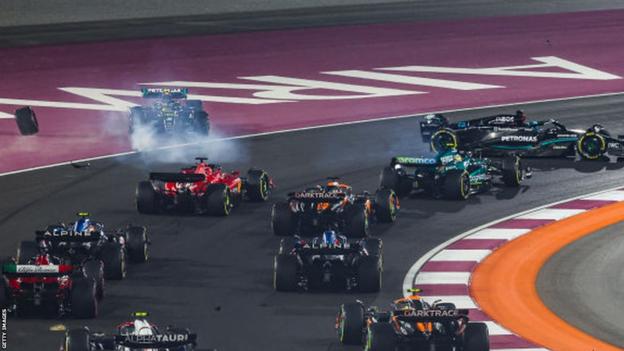 Mercedes drivers Lewis Hamilton and George Russell collided at the start before Max Verstappen went on to dominate the Qatar Grand Prix.
The crash caused Hamilton's retirement and dropped Russell to the back of the field, from where he fought back in impressive fashion to finish fourth.
McLaren's Oscar Piastri and Lando Norris took second and third after holding position in the final stages.
Verstappen was in total control after clinching his third title on Saturday.
The Dutchman led throughout from pole position, although he did lose the lead after his first stop, mandated by rules restricting tyre mileage as a result of safety concerns.
All the teams were restricted to a maximum of 18 laps on each set of tyres after Pirelli discovered its product was vulnerable to failure at high speed over the kerbs at the Lusail circuit.
That led to a staccato race in which it took time for the order to settle down, all drivers forced to make at least three pit stops by the tyre-mileage limits.
Williams' Alex Albon led the race after Verstappen had made his first pit stop, a situation partly influenced by an early safety car deployed to recover Hamilton's damaged Mercedes.
But as the strategies evened out over a race distance, Ferrari's Charles Leclerc took fifth place behind Verstappen, Piastri, Norris and Russell.
Leclerc capitalised on an error by Aston Martin's Fernando Alonso, who ran wide off the circuit at about half distance and lost out to the Ferrari.
Alonso, struggling with a seat that was burning him, held on for sixth ahead of Alpine's Esteban Ocon and Alfa Romeo's Valtteri Bottas.
Red Bull's Sergio Perez finished ninth on the road after starting from the pit lane following a crash in Saturday's spring, his race hampered by two five-second penalties for exceeding track limits.
But the Mexican's race was hampered by two five-second penalties for exceeding track limits, the first served at a pit stop and the second imposed at the end, demoting him to 10th behind Alfa Romeo's Zhou Guanyu.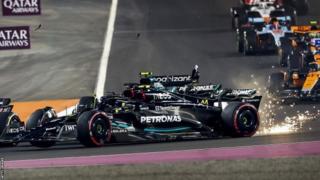 Both Mercedes started well off the line and were gaining on polesitter Verstappen, but then contact at the first corner…
What happened to the Mercedes pair?
Starting from second and third, Russell and Hamilton had a great opportunity to build a large gap to Ferrari in their fight for second in the constructors' championship and Hamilton to close on Red Bull's Sergio Perez for second in the drivers' title chase.
But they came to grief at the first corner as they tried to go three abreast with Verstappen.
Hamilton started on the soft tyres, which gave him greater grip off the line, and he pulled alongside Russell on the outside, with Verstappen in the lead on the inside, but not a full car's length ahead of the Mercedes.
As Hamilton tried to sweep around the outside, his right rear wheel tagged Russell's left front and the seven-time champion spun into the gravel.
In their immediate radio messages, the drivers were angry with each other, Hamilton saying he had been "taken out by my team-mate" and Russell saying "for the second race in succession", a reference to his feelings that Hamilton had not played the team game as they fought the Ferraris in Japan two weeks ago.
Out of the car, Hamilton was more contrite, saying: "It's a fine line. I'm sorry for all the team."
And he later said on social media: "I've watched the replay and it was 100% my fault and I take full responsibility. Apologies to my team and to George."
Russell dropped to last with a pit stop to replace his tyres at the end of the first lap, but drove an impressive race to fight back to fourth place, underlining what might have been possible for both cars had they not collided.
Mercedes realised early on that the mandated shorter stint lengths, combined with less tyre wear issues than in the sprint, meant Russell could push harder than expected.
It was a realisation they seemed to come to earlier than other teams, and allowed Russell to make a lot of ground through the race.
McLaren's private battle
The incident made McLaren's race much easier than it might have been – a fact recognised by Piastri in the cool-down room before the podium ceremony when, discussing the start with Verstappen and Norris, he said: "Thank you, Mercedes."
Piastri, fresh from his maiden F1 victory in the sprint race on Saturday, made a blistering start and swept into second from sixth on the grid at the first corner, helped by Alonso, who started fourth, being delayed by the Mercedes cars in front of him.
Piastri then drove another strong race as Norris fought up from his 10th place on the grid, caused by having both his laps deleted in qualifying on Friday.
By the final stint, Norris was up into third place and closing on Piastri when the team told the drivers to hold position.
Norris tried to argue the toss, but his pleas fell on deaf ears. And after he had set fastest lap, Piastri responded with one just 0.1secs slower to prove that he, too, had pace in hand and underline why the team wanted to protect their double podium.
All three podium finishers commented on the difficulty of the race, pushing harder than usual because of the extra pit stops in desert temperatures of more than 30C.
Piastri said it was "definitely the hardest race I've had in my life" and both Norris and Verstappen, with much more F1 experience, agreed it ranked among their toughest, too.
Russell's fourth place with Leclerc fifth provided Mercedes a two-point boost in the constructors' championship as the second Ferrari of Carlos Sainz could not start the race as a result of a fuel leak discovered in the garage an hour before the race.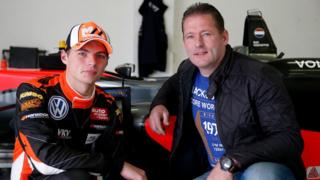 A young Max Verstappen alongside his father and former Formula 1 driver Jos during his Formula 3 testing in Hungary in 2014
Welcome to Triple Star News! I am your Editor, your go-to source for staying informed and up to date on a wide array of themes and topics. My dedicated team of journalists and reporters works tirelessly to bring you timely and comprehensive news coverage that caters to your diverse interests and curiosities. From current events and politics to technology, entertainment, health, and beyond, I've got you covered. I pride myself on delivering information in a clear, concise, and engaging manner, accessible to readers of all backgrounds. Join me on Triple Star News and embark on a journey of discovery, staying informed, and expanding your horizons. Let the world unfold before your eyes.