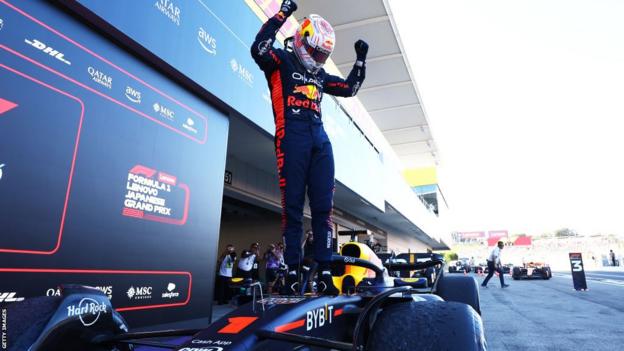 Red Bull's Max Verstappen dominated the Japanese Grand Prix to take his 13th victory of the year and help his team clinch the constructors' title.
The Dutchman fended off the McLarens of Oscar Piastri and Lando Norris at the first two corners and then motored away into a race of his own.
Norris passed Piastri after he had to back off for Verstappen's defence and went on to second place.
Piastri followed him home in third for his first podium in his debut season.
The McLaren drivers had to pass Mercedes driver George Russell after the final pit stops as the Briton tried a rare one-stop strategy after an early hectic and feisty battle with team-mate Lewis Hamilton.
Russell's gamble failed to pay off – after the McLarens passed him, both into Turn One, he was then passed by Ferrari's Charles Leclerc for fourth with a lovely move around the outside of Turns One and Two.
In the closing laps, Russell also lost out to Hamilton and Ferrari's Carlos Sainz and dropped down to seventh, with Hamilton fifth and Sainz sixth.
It was all window-dressing to the imperious Verstappen, though, who was once again in a league of his own, his driving justifying the quality of one of the greatest racing cars ever built as Red Bull clinched a second constructors' championship in a row and a sixth in all.
Verstappen is now likely to win the drivers' title at the next race in Qatar, quite possibly in Saturday's sprint race.
As long as Perez does not score six more points than Verstappen in the sprint at Losail, the Dutchman will be champion for a third time.
An on-edge battle at Mercedes
Russell and Hamilton left each other only the finest of margins as they battled through the early stages of the race.
Initially, Russell passed Hamilton at the chicane at the end of the first lap after the race resumed following an early safety car called for on-track debris caused by a first-lap collision at the back of the field.
But the seven-time champion refused to accept the move, and passed Russell straight back into Turn One on the next lap, his car body-language almost elbowing Russell aside, jinking towards him as they went down the straight, and betraying Hamilton's impatience.
Russell later tried to pass Hamilton around the outside into Spoon Curve after the leading Mercedes made an error and ran wide at the tricky Degner Two corner.
But Hamilton refused to cede, forcing Russell wide over the kerb as both ran into the run-off area.
The move triggered a reaction from Russell, asking the team over the radio whether they were racing each other or the other teams.
And it led to Russell trying the one-stop strategy in the hope it might pay off.
In the end, it did not work out. After the McLarens passed him, first Leclerc went through before more tension emerged at Mercedes.
As Hamilton bore down on his team-mate with Sainz right behind him, Russell asked whether they could work together to use the DRS overtaking aid to defend against Sainz, in the same way a the Spaniard had used Norris behind him in Singapore last weekend to defend against the Mercedes.
"Does he want to play the team game? After earlier, it's the least he could do," Russell said.
He was told that letting Hamilton by was "an instruction" but Russell then asked if Hamilton could give him the DRS to help fend off Sainz.
Hamilton had already made a gap, but backed off to help Russell, to no avail as Sainz passed him down the pit straight with two laps to go.
Hamilton then complained as Sainz chased him that they had "wasted all this time for no reason" but he was able to fend off the Ferrari to the flag.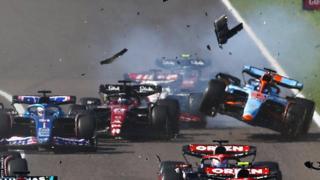 It all began with a bang
Alonso quality; Perez mishaps
Behind them, Fernando Alonso rescued his race with a fine drive after complaining his team had "fed me to the lions" with a too-early stop off the soft tyres he had chosen for the start, while all ahead went for mediums.
Alonso found himself stuck in a fight with Alpine's Esteban Ocon, which he never enjoys given the Frenchman's always-aggressive defence against his former team-mate after the friction that developed between them at Alpine in 2021 and 2022.
Alonso asked Aston Martin to "think of something" and an early second stop for hard tyres worked out, as he comfortably eked out his tyres to beat the two Alpines to the flag.
Pierre Gasly was ahead of Ocon in the closing stages but let him by on the team's order so Ocon took ninth at the flag and Gasly the final point.
The decision was made because Ocon had earlier let Gasly by to chase Alonso, but he failed to catch him. Nevertheless, Gasly was furious afterwards, marking the first flashpoint between two drivers who fell out years ago but who insisted they could work together this year.
In contrast to Verstappen's sublime clean sweep of a weekend, on which he also netted fastest lap, team-mate Sergio Perez had a poor race.
He suffered front-wing damage on the first lap, forcing Hamilton wide at the first corner, and his afternoon soon spiralled out of control.
Rejoining the field with a new front wing while it was under the control of the safety car, he passed three cars as he exited the pits, before letting them by again.
That earned him a penalty for overtaking under the safety car.
Then, trying to make up ground from his first mishap, he made a clumsy overtaking attempt on Kevin Magnussen's Haas at the hairpin and clattered into the Dane, breaking his front wing again.
Red Bull tried to get him back into the race but the car was irretrievably damaged.
He pulled into the pits to retire, but in almost comedic scenes, after sitting around for many laps, he had to rejoin to serve a penalty for colliding with Magnussen, before finally retiring for good.
Welcome to Triple Star News! I am your Editor, your go-to source for staying informed and up to date on a wide array of themes and topics. My dedicated team of journalists and reporters works tirelessly to bring you timely and comprehensive news coverage that caters to your diverse interests and curiosities. From current events and politics to technology, entertainment, health, and beyond, I've got you covered. I pride myself on delivering information in a clear, concise, and engaging manner, accessible to readers of all backgrounds. Join me on Triple Star News and embark on a journey of discovery, staying informed, and expanding your horizons. Let the world unfold before your eyes.