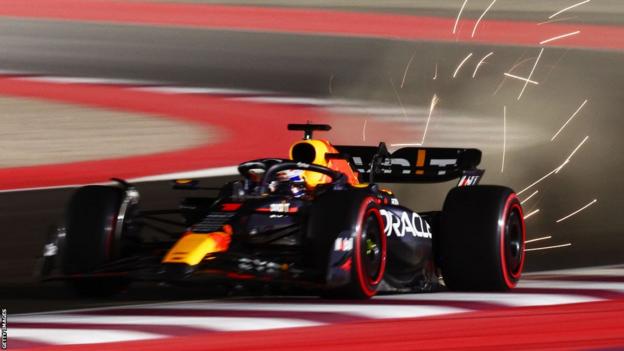 Max Verstappen stormed to pole position at the Qatar Grand Prix and needed only one run in the final qualifying session to achieve it.
Mercedes drivers George Russell and Lewis Hamilton were promoted to second and third after penalties for McLaren's Lando Norris and Oscar Piastri.
Norris and Piastri had been second and fourth, sandwiching Russell, but lost their times for exceeding track limits.
Aston Martin's Fernando Alonso starts fourth.
Ferrari's Charles Leclerc will begin from fifth after team-mate Carlos Sainz failed to make it through to the top 10 shootout.
The qualifying session set the grid for the grand prix on Sunday, by which time the most consequential result of the weekend may already have occurred.
Saturday is devoted to the sprint event, with a qualifying session followed by a short race, and this could result in champion-elect Verstappen being crowned.
Verstappen will clinch the title as long as he does not lose six points or more to Red Bull team-mate Sergio Perez in an event that awards eight points to the winner and then a sliding scale down to one point for eighth.
That matter was on the backburner on Friday, and as well as the strife for Sainz there was another big scalp in the second qualifying session, when Perez was eliminated.
The penalties for Norris and Piastri led to comical scenes in the post-session television interviews.
First Russell asked: "Where's Lando?" when Piastri showed up to be interviewed after him. And then the Australian was told he also had a penalty just as he was finishing talking.
Piastri's first lap in the session was good enough to put him sixth on the grid, while Norris, who had both his lap times deleted for track limits transgressions, will line up 10th, behind the Alpines of Pierre Gasly and Esteban Ocon and Alfa Romeo's Valtteri Bottas.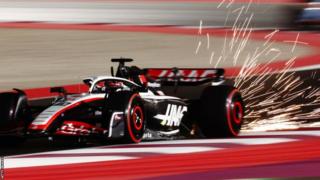 Qatar is one of a few night races in the Middle East
Verstappen supreme; Mercedes surprised
Verstappen set his best time on his first run and then ran wide at Turns Four and Five on his second run. But he was out of reach of his rivals – as he has been for pretty much the entire season.
Verstappen said: "It was difficult for everyone out there. With the new Tarmac, there was not a lot of grip and as soon you try to carry a little more speed into the corner the rear would step out.
"That made it very difficult to find the limit and see how much the track was improving without going over the limit."
Russell said Mercedes had not expected to be so strong in Qatar, on a track dominated by fast corners, an area where they have struggled this season.
"In the second half of the season, the qualifying pace [for me] has been exceptional," Russell said. "I am feeling really confident in the car, but we definitely weren't expecting to be lining up second and third for the grand prix."
He said the advantage Norris gained by running wide was nowhere near the 0.2secs gap between the two cars.
"We know we are half a step behind McLaren at the moment," Russell added, "but our fight at the moment is with Ferrari for second in the constructors' championship."
Norris said: "I just had an oversteer and I went off. The car has been mint. I just messed it up. Not a good day for me."
Ferrari and Perez struggling
The Ferrari looked a handful out on the track. Leclerc repeatedly ran wide in Turns Four and Five, but managed to keep it together for what was seventh place before the McLarens were penalised.
He suffered less from the car's wayward handling than team-mate Sainz, who was 0.249secs slower, a margin enough to see him eliminated at the end of the second session.
"I had a very difficult qualifying," Sainz said. "Just struggling quite a bit with the balance. The rear was very loose."
Perez also had his fastest Q2 lap deleted and even that lap was 0.8secs slower than Verstappen's best in the same session.
Perez said: "We struggled a lot for balance. We had so many issues that I just couldn't fix any of them. Every corner was different."
Welcome to Triple Star News! I am your Editor, your go-to source for staying informed and up to date on a wide array of themes and topics. My dedicated team of journalists and reporters works tirelessly to bring you timely and comprehensive news coverage that caters to your diverse interests and curiosities. From current events and politics to technology, entertainment, health, and beyond, I've got you covered. I pride myself on delivering information in a clear, concise, and engaging manner, accessible to readers of all backgrounds. Join me on Triple Star News and embark on a journey of discovery, staying informed, and expanding your horizons. Let the world unfold before your eyes.