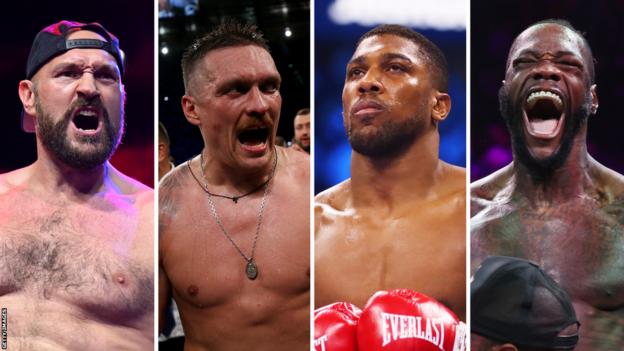 Anthony Joshua says his fight with Deontay Wilder could be part of a sensational double bill with Tyson Fury's bout against Oleksandr Usyk.
Champions Fury and Usyk agreed a deal in October for a historic undisputed heavyweight fight, set to take place in Riyadh, Saudi Arabia.
"They want to put Usyk-Fury, Joshua-Wilder on the same night. That might not happen until April," Joshua told BBC Sport and other outlets on the sidelines at the US Grand Prix in Austin, Texas on Sunday.
Former two-time world heavyweight champion Joshua has been heavily linked with a fight against hard-hitting American Wilder, with his promoter Eddie Hearn previously saying "we've agreed the money, we've agreed everything".
But that fight fell through and no contracts were ever signed between the two parties.
Fury, 35, must first come through uninjured in a non-title bout against MMA star Francis Ngannou on Saturday in Riyadh.
"When Fury gets through Ngannou, it is going to be late October, early November, so I doubt he will now prepare for Usyk and fight in December, it's too short," said Joshua.
"So the next window will probably be in March-April, so that's probably when the undisputed fight will potentially happen.
"Then obviously what we are being told is they want to make it a mega card and they like the sound of Joshua v Wilder on the same card as well."
Briton Fury is the WBC champion and Ukraine's Usyk, 36, holds the WBA, WBO and IBF titles.
The winner will be crowned the first undisputed heavyweight champion in the four-belt era.
Fury has won 33 fights with one draw since turning professional in 2008, while Usyk – who has won all 21 professional bouts – defended his titles against Londoner Daniel Dubois in August.
"The heavyweights always spark the imagination of the fans, and I have no doubt this will be the biggest boxing event of the century," Fury's promoter Frank Warren said in September when the fight was announced, with an intended date of 23 December.
Four greats of the heavyweight division collide
The four fighters have, along with the retired Wladimir Klitschko, dominated heavyweight boxing for the past 15 years and their careers are intertwined.
Fury won his first world title after dethroning Klitschko in 2015, before taking a hiatus from the sport.
After well-documented issues with mental health, he returned more than two and a half years later. He contested a trilogy with Wilder and, having drawn the first fight, beat the American in 2020 to become WBC champion.
Fury won the third fight with hard-hitting Wilder and has since defended his belt against Britons Dillian Whyte and Derek Chisora.
Usyk is one of the most decorated fighters in world boxing. The London 2012 Olympic gold medallist became undisputed world champion before dethroning Briton Joshua in 2021.
Joshua has picked up two victories this year, over Jermaine Franklin and Robert Helenius, following consecutive defeats by Usyk as his previously dominant career hit a roadblock.
In a phenomenal rise to stardom, 2012 Olympic gold medallist Joshua became world champion in his 16th fight, knocked out his first 20 opponents and unified the division in his 21st outing.
Between those events, he defeated Klitschko in 2017 in the Ukrainian's final bout in one of the greatest fights of all time.
Wilder, who turned 38 on Sunday, held the WBC heavyweight title from 2015 to 2020, making 10 successful defences.
He has only fought once since the second of his two losses to Fury, in October 2021, beating Helenius in the first round a year ago.
Joshua likely to fight in December
Joshua said he plans to fight in December "in London, probably [at] the O2 or Wembley Arena" against an unnamed opponent, before taking on Wilder.
"For an event, that's good [the potential double bill], but for a career, I've got to stay busy," the 34-year-old said. "So in terms of opponent, we have to find the right opponent. I'm switching trainers. I am following my process."
Joshua later clarified that he meant "switching" to different working styles with different trainers before he goes into full training camp, rather than switching to a new trainer.
He added: "I remember when they said they didn't want me to fight this year. They were like, don't fight this year, we're going to do the Usyk-Fury fight. Imagine like I fought twice this year already, I would have had a stagnant year again.
"So I am just following my process, I am not listening to all the noise about Wilder and these guys. When the opportunity comes, we will be ready, because I will have trusted where I'm going and it will have led me to the fight, but I am not waiting around for big opportunities."




Welcome to Triple Star News! I am your Editor, your go-to source for staying informed and up to date on a wide array of themes and topics. My dedicated team of journalists and reporters works tirelessly to bring you timely and comprehensive news coverage that caters to your diverse interests and curiosities. From current events and politics to technology, entertainment, health, and beyond, I've got you covered. I pride myself on delivering information in a clear, concise, and engaging manner, accessible to readers of all backgrounds. Join me on Triple Star News and embark on a journey of discovery, staying informed, and expanding your horizons. Let the world unfold before your eyes.