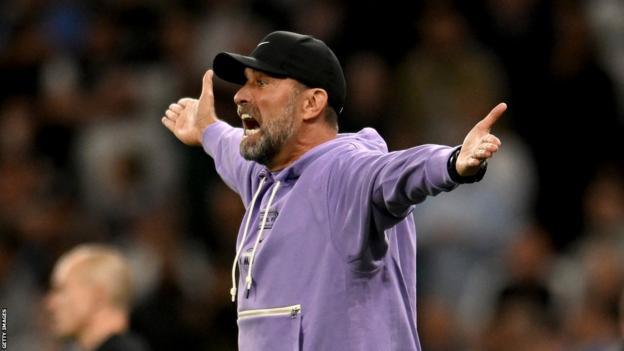 Referees' body PGMOL has admitted the decision to disallow Luis Diaz's goal in nine-man Liverpool's 2-1 loss to Tottenham Hotspur was "a significant human error".
At 0-0 and with the Reds a man down Diaz's was goal ruled out by an unusually quick VAR decision in which the customary offside line graphic was not shown.
"PGMOL acknowledge a significant human error occurred," the statement read.
"PGMOL will conduct a full review."
"The goal by Luiz Diaz was disallowed for offside by the on-field team of match officials. This was a clear and obvious factual error and should have resulted in the goal being awarded through VAR intervention, however, the VAR failed to intervene.
The Reds also had Curtis Jones and Diogo Jota sent off, and lost to a stoppage-time Joel Matip own goal after resolutely keeping Spurs out.
Speaking after the match, Jurgen Klopp said his side's defeat came in "the most unfair circumstances" with "crazy decisions".
On Diaz's disallowed goal, Klopp told Sky Sports: "That is not offside when you see it," he told Sky Sports.
"The ball is between Mo [Salah]'s legs, they drew the line wrong and didn't judge the moment when Mo passed the ball right."




Welcome to Triple Star News! I am your Editor, your go-to source for staying informed and up to date on a wide array of themes and topics. My dedicated team of journalists and reporters works tirelessly to bring you timely and comprehensive news coverage that caters to your diverse interests and curiosities. From current events and politics to technology, entertainment, health, and beyond, I've got you covered. I pride myself on delivering information in a clear, concise, and engaging manner, accessible to readers of all backgrounds. Join me on Triple Star News and embark on a journey of discovery, staying informed, and expanding your horizons. Let the world unfold before your eyes.