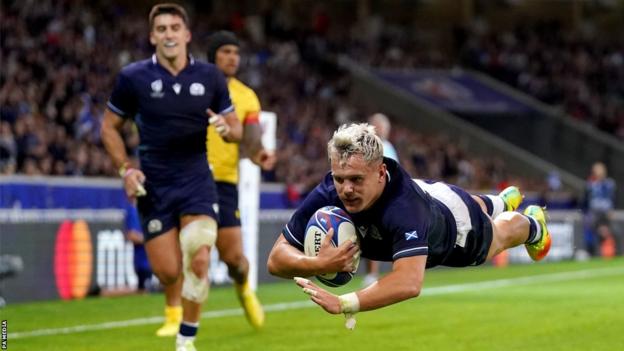 Scotland (42) 84
Tries:
Watson, Price, Graham 4, M Fagerson, Harris, Smith, Healy, Matthews, Darge
Cons:
Healy 11, Horne
Romania (0) 0
Rampant Scotland ran in 12 tries to thrash Romania 84-0 and set up a potential Pool B shootout with Ireland at the Rugby World Cup.
Darcy Graham scored a hat-trick of first-half tries, with Hamish Watson, Ali Price and Matt Fagerson also crossing before the break.
Chris Harris, Ollie Smith, Ben Healy, debutant Johnny Matthews, Rory Darge and Graham added scores in the second period, with Healy and George Horne maintaining a perfect record with the boot.
The Scots ended five points shy of their biggest ever World Cup win over Ivory Coast in 1995.
With South Africa strong favourites to beat Tonga with a bonus point on Sunday, Scotland needed to take the maximum five points in Lille to give themselves the best chance of reaching the knockout stages.
Gregor Townsend's side are likely to need to beat Ireland and deny Andy Farrell's side a bonus point in Paris next Saturday.
Satisfying for Scots but uncomfortable for rugby
Scotland could only beat what was in front of them but this utter annihilation was a mild training run compared to what's coming down in the line against Ireland in Paris next weekend. It was a rugby Test in name only. It was satisfying for the Scots but deeply uncomfortable for the game as a whole.
Townsend's team will make that journey in good heart and with a bucket of tries in the bank, as was expected. Romania are an underfunded, underplayed side with a squad of seriously average players, but throw indiscipline into the mix and an almighty drubbing is the result.
Getting three yellows in the opening half, two of them for head-to-shoulder incidents, none of which were upgraded to red by the secret society in the bunker, hardly helped their cause. Scotland should have scored more. Had they brought up a century then they would not have been flattered.
They had a good attitude from the get-go. Watson set the tone early on with some lusty carries and it was the flanker, playing for game-time against Ireland, who started the rout. Ollie Smith and Cam Redpath made the initial line breaks and Watson appeared out wide to finish once the Romanian defence narrowed.
Healy's kicking was immaculate all night and he banged over a tricky conversion. Even at that point, Romania were blowing. How they suffered thereafter, though.
Before he started scoring, Graham threw in an assist when he scampered into space and fed Price. It was slick and way too much for Romania. Healy put over the extras and it was 14-0 after 18 minutes.
On the down side for Scotland, Ireland will have looked at dropped balls, missed touch finds and a couple of iffy lineouts with interest, but mostly it was one-way traffic. Graham hit a nice angle off a Price pass and darted away for his first and Scotland's third.
Yellows but surprisingly no reds for Romania
Down three converted tries to nil, all Romania needed was to start losing men to the bin, which they duly did. Hooker Robert Irimescu hit Healy high and walked. "Not a high degree of danger," said referee Wayne Barnes in explaining why the yellow did not become a red.
Soon after, they went down to 13 when Florian Rosu came in at the side of a maul that was trundling towards his own line. Scotland punished them quickly, the excellent Harris teeing up Graham for his second. That was the bonus point in the bag.
Relentless pressure and a two-man disadvantage wore Romania out. Fagerson ploughed over just before the break and Graham completed his hat-trick in the dying seconds of the half, with Harris terrific again.
In between those scores, a third Romanian disappeared to the bin after full-back Marius Simionescu's shoulder collided with Smith's head. That yellow stayed yellow even though it was difficult to find mitigation with a telescope.
The tries kept coming in waves. Harris deserved his score early in the new half after a crossfield kick from the impressive Healy. Smith ran a loose Romania kick back at them from his own half and went all the way to the line. Then, Healy scored. That was Scotland beyond the 60-point mark.
Matthews came on and the hooker with a remarkable try tally did what everybody probably expected him to do. A lovely break from deep by Blair Kinghorn and a simple offload from George Horne put the big man in and he ate up the ground to the line.
Minutes later, the try-scoring hooker morphed into a try-assisting hooker when he gave the pass that saw Darge go through. That was 77-0, but Romania were not quite out of their misery. Graham stepped his way in for his fourth and it was an 80-pointer.
Romania looked like men who were praying for the final whistle. Scotland looked hungry for more and ready for a trip to Paris, another rugby world, for sure, but they go there in hope.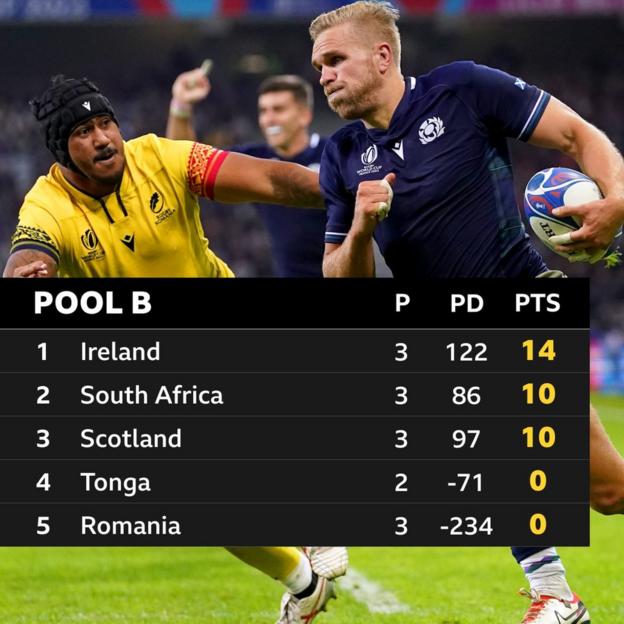 Line-ups
Scotland: Smith, Graham, Harris, Redpath, Steyn, Healy, Price, Bhatti, Ashman, Sebastian, Skinner, Gilchrist, Crosbie, Watson, M Fagerson.
Replacements: Kinghorn for Smith (59), Jones for Harris (65), Horne for Price (55), Sutherland for Bhatti (59), Matthews for Ashman (59), Nel for Sebastian (59), Cummings for Gilchrist (59), Darge for Watson (66).
Romania: Simionescu, Lama, Tomane, Tangimana, Sikuea, Conache, Rupanu, Savin, Irimescu, Gajion, Motoc, Iancu, Rosu, Ser, Chirica.
Replacements: Onutu for Tangimana (57), Surugiu for Rupanu (61), Bardasu for Irimescu (59), Burtila for Gajion (57). Not Used: Hartig, Iftimiciuc, Stratila, Boldor.
Sin Bin: Irimescu (30), Rosu (31).
Match officials
Referee: Wayne Barnes (England)
Assistants: Angus Gardner (Australia) and James Doleman (New Zealand)
TMO: Brendon Pickerill (New Zealand)
Welcome to Triple Star News! I am your Editor, your go-to source for staying informed and up to date on a wide array of themes and topics. My dedicated team of journalists and reporters works tirelessly to bring you timely and comprehensive news coverage that caters to your diverse interests and curiosities. From current events and politics to technology, entertainment, health, and beyond, I've got you covered. I pride myself on delivering information in a clear, concise, and engaging manner, accessible to readers of all backgrounds. Join me on Triple Star News and embark on a journey of discovery, staying informed, and expanding your horizons. Let the world unfold before your eyes.