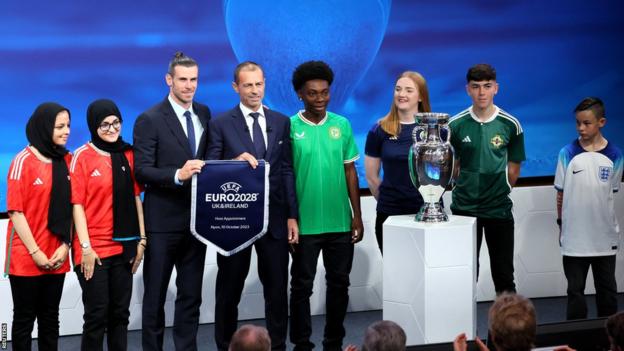 The United Kingdom and Republic of Ireland will host the 2028 European Championship, Uefa has confirmed.
The joint bid ran unopposed after Turkey withdrew to focus on a bid with Italy for Euro 2032, which was also confirmed at a meeting in Switzerland.
The UK and Ireland focused on Euro 2028, with Uefa's approval, after they ended a plan to be Europe's preferred candidate for the 2030 World Cup.
London's Wembley and Glasgow's Hampden Park hosted games at Euro 2020.
It is understood that the bid proposes that Cardiff's Principality Stadium hosts the opening match of the 2028 tournament with the final at London's Wembley.
"For me as a Welshman, I would love for Cardiff to host the opening match," said former Wales captain Gareth Bale, who attended the presentation in Nyon.
"We have the stadium and infrastructure for it. We've held big tournaments in the past so we have the experience."
The Republic of Ireland, Northern Ireland and Wales have never hosted a major football tournament.
Matches at Euro 2028 are set to be held at 10 different grounds, including Glasgow's Hampden Park and Dublin's Aviva Stadium. Belfast's Casement Park and Everton's Bramley-Moore Dock, the former unbuilt while the latter is still under construction, were also included in the bid.
England were one of the 11 countries to host Euro 2020 along with Scotland, as well as being sole hosts of the 1966 World Cup and Euro '96. England also hosted the record-breaking Women's European Championship in 2022.
While Italy had only bid for the 2032 tournament, Turkey had initially bid to host both Euro 2028 and 2032.
Turkey withdrew from the running to host Euro 2028 last week after their bid with Italy for 2032 was approved by European football's governing body.
They have 20 potential host stadiums, of which 10 will be chosen, five per country, by October 2026.
Turkey hosted June's Champions League final between Manchester City and Inter Milan at Istanbul's Ataturk Olympic Stadium, but a major international tournament has never been held in the country.
European champions Italy hosted the Euros in 1968 and 1980, while Rome's Stadio Olimpico was also used as a venue at Euro 2020.
Germany will host Euro 2024 with the most recent championship being played in 2021 instead of 2020 because of the Covid-19 pandemic.
Will all five home nations get automatic qualification?
Staging a major tournament usually means the hosts qualify automatically.
But, when it comes to co-hosting, qualification for all five host nations is not guaranteed.
In its bid guidelines, Uefa says: "In case of more than two joint-host associations, the automatic qualification of all the host teams cannot be guaranteed and shall be subject to a decision to be made in conjunction with decisions concerning the qualifying competition."
It is unlikely Uefa will offer more than two places, so three could miss out.
There has been some talk of all five nations trying to qualify with two 'backstop' qualification spots available for those who miss out, with either the highest-ranking nations who failed to qualify going through, or the two sides that come closest to qualifying.
However, it has been said that there are some reservations within Uefa about offering a 'backdoor' entry to nations who have failed to qualify, as well as its potential impact on the normal qualifying process.
BBC Sport understands the Football Association want England to reach Euro 2028 via the formal qualifying process, rather than be handed an automatic slot by Uefa.
This is because it believes it would provide the team with better preparation for the tournament than a series of friendlies.
"I think every team would want to qualify on merit, want to go in playing well," said Bale.
"Coming through in a campaign, going into the tournament you've got confidence behind you. Those two back-up spots are there just in case. It's important all teams try and qualify and do the best they can and hopefully they all do it automatically anyway."
UK and Ireland Euro 2028 host stadiums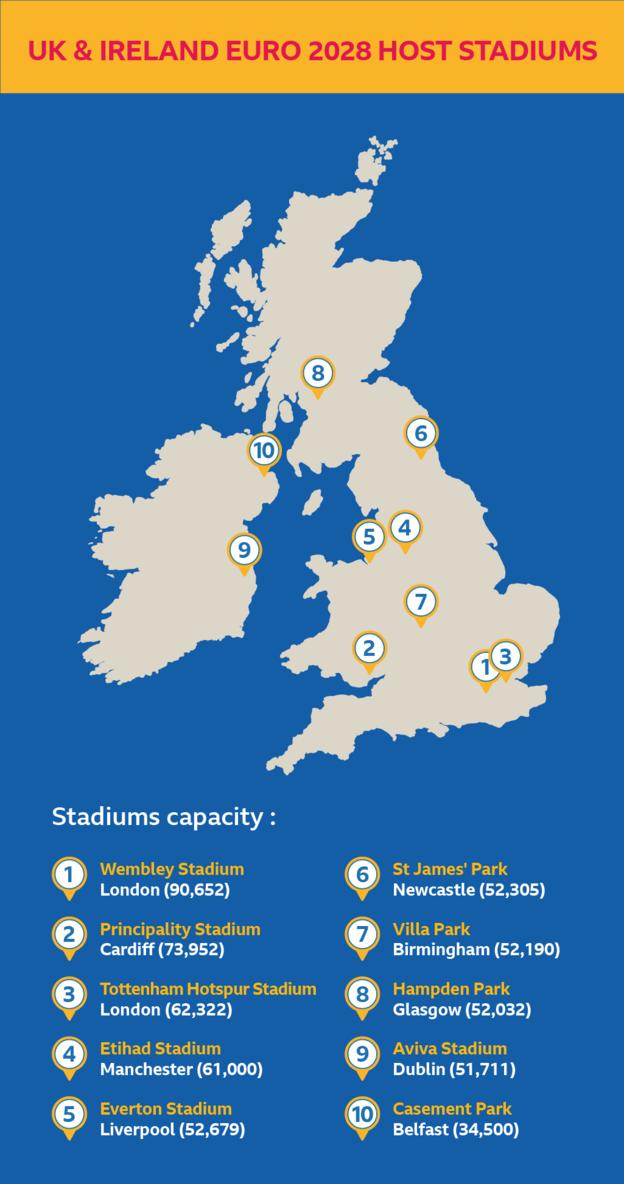 Will Casement Park & Everton's Bramley-Moore Dock stadium be built in time?
In April, 10 grounds were selected for the UK and Republic of Ireland's bid.
The proposed redevelopment of Belfast's Casement Park site, which is due to be a 34,500-capacity stadium after initial plans for a 38,000-seater were rejected, has been hindered by a number of setbacks since first being suggested about a decade ago, including long-running legal challenges.
Work on building it has yet to begin but it is hoped it will be ready two years before the tournament.
Everton's Bramley-Moore Dock stadium is set to be finished in late 2024.
Apart from Casement Park, all of the host stadiums will be able to hold more than 50,000 with some grounds, like Etihad Stadium, expanding to increase capacity further.
Wembley hosting the final in 2028 will be a major test for the 90,000-capacity venue after the chaos surrounding its hosting of the Euro 2020 final.
A review into disorder at the final found "ticketless, drunken and drugged-up thugs" could have caused death as they stormed the stadium.
'Inspire a whole new generation' – reaction
UK Prime Minister Rishi Sunak: "I grew up with Euro '96 being one of the most amazing memories of my childhood. And we have a chance to do that all over again for lots more people just like we did last year with the Lionesses. We host tournaments better than anyone else. It's going to be a massive boost for the economy. We're going to welcome millions of people to the country, and it's going to inspire a whole new generation."
Wales First Minister Mark Drakeford: "Fantastic to hear that Wales will host Uefa Euro 2028 matches following the successful joint UK and Ireland bid. Together, we'll deliver an unforgettable and spectacular tournament – showcasing the best Cymru has to offer."
Scotland First Minister Humza Yousaf: "Football is Scotland's national game and a powerful force for good in communities right across the country. Hosting the Euros in Scotland will provide a range of opportunities, not only through the economic benefits of visiting fans but through a strong legacy programme that will help grow a more inclusive and diverse game right across the country."
Taoiseach (Irish Prime Minister) Leo Varadkar: "I am over the moon that Ireland and the UK will co-host Euro 2028. Congratulations to FA Ireland and all involved in winning the bid. It will be the biggest event ever hosted by our two islands working together."



Welcome to Triple Star News! I am your Editor, your go-to source for staying informed and up to date on a wide array of themes and topics. My dedicated team of journalists and reporters works tirelessly to bring you timely and comprehensive news coverage that caters to your diverse interests and curiosities. From current events and politics to technology, entertainment, health, and beyond, I've got you covered. I pride myself on delivering information in a clear, concise, and engaging manner, accessible to readers of all backgrounds. Join me on Triple Star News and embark on a journey of discovery, staying informed, and expanding your horizons. Let the world unfold before your eyes.