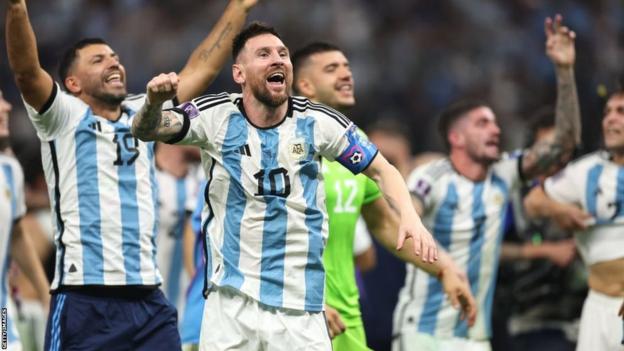 The 2030 World Cup will be held across six countries in three continents, Fifa has confirmed.
Spain, Portugal and Morocco have been named as the co-hosts, with the opening three matches taking place in Uruguay, Argentina and Paraguay.
The opening matches in South America are to mark the World Cup's centenary as it will be 100 years since the inaugural tournament in Montevideo.
The decision is set to be ratified at a Fifa congress next year.
Fifa also confirmed only bids from countries from the Asian Football Confederation and the Oceania Football Confederation will be considered for the 2034 finals.
Following that decision, Saudi Arabia announced it would be bidding to host the tournament in 2034 for the first time.
Fifa's decision to host the tournament across multiple continents has drawn criticism, with one supporter's body accusing football's world governing body of engaging in a "cycle of destruction against the greatest tournament on Earth".
"[It's] horrendous for supporters, disregards the environment and rolls the red carpet out to a host for 2034 with an appalling human rights record. It's the end of the World Cup as we know it," said Football Supporters Europe.
Fifa president Gianni Infantino said: "In a divided world, Fifa and football are uniting
"The Fifa Council, representing the entire world of football, unanimously agreed to celebrate the centenary of the Fifa World Cup, whose first edition was played in Uruguay in 1930, in the most appropriate way.
"In 2030, we will have a unique global footprint, three continents – Africa, Europe and South America – six countries – Argentina, Morocco, Paraguay, Portugal, Spain and Uruguay – welcoming and uniting the world while celebrating together the beautiful game, the centenary and the Fifa World Cup."
Montevideo in Uruguay, the city which hosted the first World Cup match in 1930, is poised to stage the opening game in 2030 with matches in Argentina and Paraguay to follow.
The rest of the 48-team tournament will then move to north Africa and Europe.
If the 2030 proposal is approved, Morocco would become only the second African nation to host a World Cup, after South Africa in 2010.
Spain has been named as joint-host weeks after former football federation chief Luis Rubiales resigned following criticism for kissing Jenni Hermoso at the Women's World Cup.
Appearing in court, Rubiales was given a restraining order by a Spanish judge, but denied sexually assaulting Hermoso.
Spain last hosted the World Cup in 1982, with Italy winning the tournament for the third time.
Portugal has never hosted the tournament, but Euro 2004 was held there.
As in previous World Cups, Uruguay, Argentina, Paraguay, Spain, Portugal and Morocco will all qualify automatically as co-hosts.
'Announcement raises questions over Fifa's integrity on climate'
Fifa's decision to host the tournament across multiple continents comes after the governing body 'made false statements' about the reduced environmental impact of the 2022 World Cup in Qatar.
Fifa said the tournament would be the first "fully carbon-neutral World Cup" but could not provide proof the claims were accurate.
In November, BBC Sport reported how environmentalists called Fifa's carbon-neutral claim "dangerous and misleading" and warned the tournament could have had a carbon footprint three times greater than stated.
Freddie Daley, a researcher for Global Economy Policy at the University of Sussex, says Fifa's decision to expand the World Cup across three continents is "concerning" after its false promises on reducing carbon footprint.
"A World Cup of this size and scale will involve a lot of air travel, a lot of fan travel, a lot of athlete travel and I am very unsure whether Fifa will be able to deliver this in a sustainable and climate friendly way," said Daley.
"I think Fifa's actions so far point towards them not being very credible on what they have promised to do in regards to climate and climate action.
"Fifa as an organisation has huge responsibility to citizens around the world to help educate on climate, raise awareness and also bring them on that journey to net zero as part of the energy transition.
"Announcements like this today make me question their integrity on climate and their support for the energy transition."
Saudi bid 'natural step for country passionate about football'
Saudi Arabia's decision to bid for the 2034 World Cup is in line with its initiative to become a global leader in sport after hosting a number of events in the country since 2018, involving football, Formula 1, golf and boxing.
But the Gulf kingdom has been accused of investing in sport and using high-profile events to improve its international reputation – a process known as sportswashing.
In a recent interview with Fox News, Saudi Arabia's Crown Prince Mohammed bin Salman said he does not care about the accusations.
"If sportswashing is going to increase my GDP by 1%, then we'll continue doing sportswashing," Bin Salman said.
Prince Abdulaziz bin Turki bin Faisal, Saudi Arabia's Olympic and Paralympic chief, says the World Cup bid "constitutes an important and natural step in our journey as a country passionate about football".
Fifa follows Uefa in readmitting Russia to under-17 competitions
Fifa also announced Russia will be readmitted to its under-17 competitions for the first time since the country's invasion of Ukraine 19 months ago.
The move follows Uefa's decision last week to allow Russian sides to compete at U17 level in European competitions after they were suspended when the invasion began in February 2022.
Fifa said the decision will be conditional on teams playing as the "Football Union of Russia" rather than Russia, without the country's flag or anthem, and wearing a neutral kit.
Uefa's move drew criticism from the English Football Association which said it "did not support" the decision, adding "our position remains that England teams won't play against Russia".
But Uefa said boys and girls should not be punished for the actions of adults, adding in a statement: "Football should never give up sending messages of peace and hope."
Welcome to Triple Star News! I am your Editor, your go-to source for staying informed and up to date on a wide array of themes and topics. My dedicated team of journalists and reporters works tirelessly to bring you timely and comprehensive news coverage that caters to your diverse interests and curiosities. From current events and politics to technology, entertainment, health, and beyond, I've got you covered. I pride myself on delivering information in a clear, concise, and engaging manner, accessible to readers of all backgrounds. Join me on Triple Star News and embark on a journey of discovery, staying informed, and expanding your horizons. Let the world unfold before your eyes.