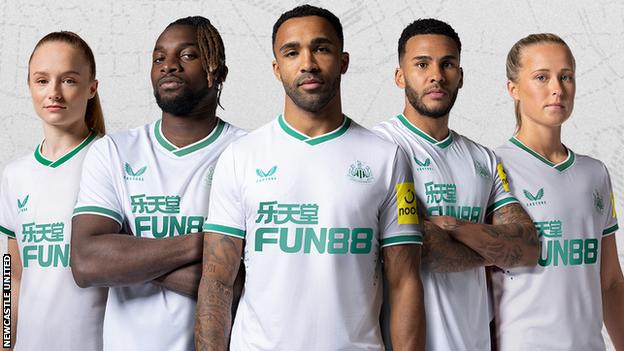 Saudi Arabia crown prince Mohammed bin Salman says he does not care about accusations of 'sportswashing'.
The Gulf kingdom has been accused of investing in sport and using high-profile events to improve its international reputation.
Saudi Arabia's Public Investment Fund (PIF) led the takeover of Newcastle United last year and launched LIV Golf.
"If sportswashing is going to increase my GDP by 1%, then we'll continue doing sportswashing," Bin Salman said.
He told Fox News: "I don't care [about the term]. I have 1% growth in GDP from sport and I am aiming for another 1.5%.
"Call it what you want – we are going to get that 1.5%."
Saudi Arabia has been criticised for its human rights violations – 81 men were executed on one day last year – women's rights abuses, the criminalisation of homosexuality, the restriction of free speech and the war in Yemen.
Its international standing was severely damaged by the 2018 killing of Jamal Khashoggi, a US-based Saudi journalist who was a prominent critic of the government.
Human rights campaigners say sport is being used by the Saudi government to distract from long-standing reputation issues.
"Saudi Arabia's acquisition of high-profile sports businesses like Newcastle United or the PGA Tour are as much about sportswashing the country's appalling human rights record as they are about adding one or two per cent to national GDP," said Felix Jakens of Amnesty International UK.
"The huge amounts of Saudi money currently sluicing through football and other sports are creating most of the headlines but, behind the drama of these transactions, the Saudi authorities are busily cracking down on human rights.
"Mohammed bin Salman's rule has been a truly dark time for human rights in Saudi Arabia and no amount of talk about economic visions or of an expansion into new sporting ventures should be allowed to distract from that fact."
But Saudi authorities reject those accusations and say investment in sport is a key part of the 'Vision 2030' strategy.
The country's sovereign wealth fund has estimated assets of $620bn (£550bn).
Newcastle chairman Yasir Al-Rumayyan is the governor of PIF, which is controlled by Bin Salman.
The Premier League club's green and white third kit last season resembled the Saudi Arabia national team kit and, at the time of its release, Amnesty International said it was "clear evidence" of sportswashing.
Saudi Arabia will host the Club World Cup in December – the first time it has staged a major Fifa event – and is expected to bid to host the World Cup in 2030 or 2034.
Qatar's controversial hosting of the 2022 tournament drew criticism because of its stance on same-sex relationships, its human rights record and its treatment of migrant workers.
PIF has taken control of four of Saudi Arabia's top clubs – Al-Ahli, Al-Hilal, Al-Ittihad and Al-Nassr – which have secured high-profile signings over recent seasons including Cristiano Ronaldo and reigning Ballon d'Or holder Karim Benzema.
The launch of the lucrative LIV Golf series in 2022 led to the PGA Tour and DP World Tour agreeing to merge with PIF in June after a year of disruption, with Al-Rumayyan appointed chair of the new unified men's game.
F1's decision to hold its inaugural race in Saudi Arabia in 2021, as part of a long-term deal, was also criticised by human rights groups.
Seven-time world champion Lewis Hamilton called on Saudi Arabia to improve its human rights record before the 2022 grand prix, having said he did not feel comfortable racing in the country.
World title boxing fights have also been held in Saudi Arabia. Anthony Joshua said he was "here for boxing" before losing to Oleksandr Usyk in Jeddah last year, having beaten Andy Ruiz in the capital Riyadh in 2019.
Tennis will hold a professional event in Saudi Arabia for the first time this year after a five-year deal was agreed for Jeddah to host the Next Gen ATP Finals.
Saudi Arabia has also held talks with the women's tour about hosting its end-of-season WTA Finals.
Welcome to Triple Star News! I am your Editor, your go-to source for staying informed and up to date on a wide array of themes and topics. My dedicated team of journalists and reporters works tirelessly to bring you timely and comprehensive news coverage that caters to your diverse interests and curiosities. From current events and politics to technology, entertainment, health, and beyond, I've got you covered. I pride myself on delivering information in a clear, concise, and engaging manner, accessible to readers of all backgrounds. Join me on Triple Star News and embark on a journey of discovery, staying informed, and expanding your horizons. Let the world unfold before your eyes.