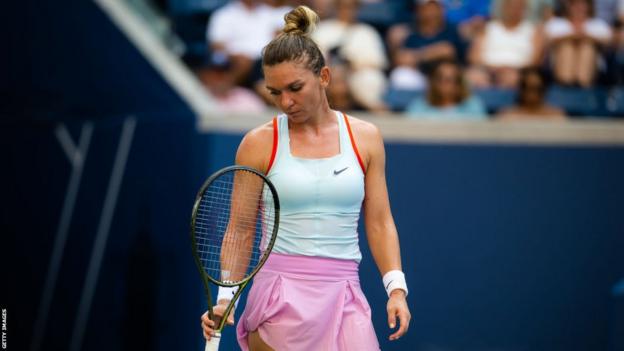 Two-time Grand Slam champion Simona Halep has been banned for four years following breaches of the Tennis Anti-Doping Programme.
An independent tribunal determined the 31-year-old Romanian had committed "intentional" anti-doping violations.
Halep said in a statement she intends to appeal against the decision at the Court of Arbitration for Sport.
"I am continuing to train and do everything in my power to clear my name of these false allegations," she said.
Halep tested positive for the use of roxadustat at last year's US Open.
She was also found guilty of using an unspecified prohibited substance or method in 2022 after irregularities were found in her biological passport.
The tribunal accepted Halep's argument she had taken a contaminated supplement, but decided that would not have resulted in the concentration of roxadustat found in her urine sample.
Roxadustat is an anti-anaemia drug which stimulates the production of red blood cells in the body.
The panel also stated they had no reason to doubt the unanimous "strong opinion" reached by three independent experts that "likely doping" was the explanation for the irregularities in her biological passport.
Halep has been provisionally suspended since October 2022, which means she will be able to play again on 7 October 2026, by which time she will be 35.
The findings of the tribunal, however, can be appealed against and Halep indicated that she would challenge the verdict.
She said: "The last year has been the hardest match of my life, and unfortunately my fight continues. I have devoted my life to the beautiful game of tennis.
"I take the rules that govern our sport very seriously and take pride in the fact I have never knowingly or intentionally used any prohibited substance. I refused to accept their decision of a four-year ban."
Halep said she "adjusted" her nutritional supplements on the recommendation of her team before the hard court season in 2022 and that "none of the listed ingredients included any prohibited substances".
However, she acknowledged that "one of them was contaminated with roxadustat" and she also planned to "pursue all legal remedies against the supplement company in question".
Halep added: "I was tested almost weekly after my initial positive test through early 2023, all of which came back negative.
"I believe in a clean sport and in almost two decades as a professional tennis player, through hundreds of tournaments and two Grand Slam titles, I have taken 200 blood and urine tests to check for prohibited substances – all of which have been clean."
The Professional Tennis Players Association called the "repeated and unexplained delays" in Halep's case "both unfair and unacceptable" and said it was "fully committed to supporting her in any future appeals".
Halep, who won the French Open in 2018 and Wimbledon the following year, is the highest-profile tennis player to fail a drugs test since Maria Sharapova in 2016.
She has won 24 WTA tour singles titles and earned £32.2m ($40.2m) in prize money and was ranked number one in the world in 2017 and 2018.
A damaging verdict for a popular champion – analysis
BBC tennis correspondent Russell Fuller
Simona Halep has been far from silent in a case which, to the frustration of all sides, has taken a year to reach a verdict.
She said in one social media post that her name had been "soiled in the worst possible way" and accused the tennis authorities of "killing her reputation".
But now the verdict has arrived, it is an incredibly damaging one.
A four-year ban is, to all intents and purposes, the most severe penalty she could have received – although a further two years could have been added had the panel considered it an "aggravated" offence – and underlines the tribunal's view that Halep had been doping "intentionally".
The Romanian was a popular champion at both the French Open and Wimbledon, and many will be shocked that if her appeal is unsuccessful, she will not be able to play for another three years.
Halep did consider retiring in the early part of 2022 because of a series of injuries which she said left her "no more power to fight".
But she gradually rediscovered her love for the sport, reached the semi-finals of Wimbledon and won the WTA 1000 event in Toronto in the two months before her ban.
Halep's 35th birthday is 10 days before her ban is currently set to expire. Even Serena Williams won only one Grand Slam title after she turned 35 and such an achievement would be nigh on impossible after four years away from the tour.
Welcome to Triple Star News! I am your Editor, your go-to source for staying informed and up to date on a wide array of themes and topics. My dedicated team of journalists and reporters works tirelessly to bring you timely and comprehensive news coverage that caters to your diverse interests and curiosities. From current events and politics to technology, entertainment, health, and beyond, I've got you covered. I pride myself on delivering information in a clear, concise, and engaging manner, accessible to readers of all backgrounds. Join me on Triple Star News and embark on a journey of discovery, staying informed, and expanding your horizons. Let the world unfold before your eyes.