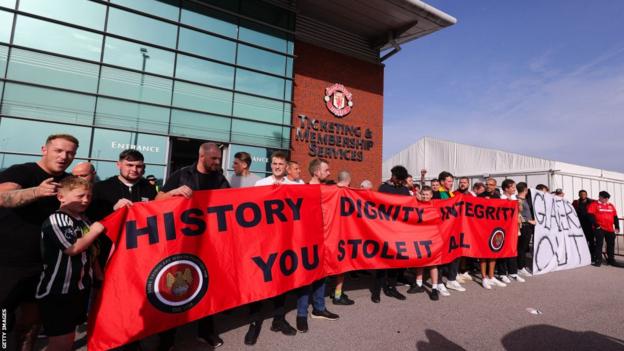 Sir Jim Ratcliffe's Ineos group wants to assume control of the football operations side of Manchester United's business from the Glazer family if a 25% offer worth an estimated £1.3bn is approved.
The British billionaire is thought to be increasingly confident of securing what he hopes will be the first stage of an eventual buyout.
The BBC was told that his principal rival – Qatari banker Sheikh Jassim bin Hamad Al Thani – had withdrawn from the process to buy United.
He failed to meet the Glazers' valuation with his 100% offer and grew frustrated with their demands.
Both groups had tabled bids of about £5bn.
It is not clear how an Ineos minority stake would be structured and if the Glazers would accept it.
Ineos is thought to hope that if it were to be in charge of the football side of the club's business with a quarter share, it may reassure supporters unhappy that the Glazers will remain at United.
Former United captain Gary Neville asked on social media: "Can this really work and what impact will it have on a struggling organisation?"
After listing six things he believed were "non-negotiable" for a takeover, Neville said: "How does a minority stakeholder positively impact the club to achieve the above? Can a minority shareholder have any impact on the above?
"My preference is and always will be for a Glazer family full exit. They have overstayed their welcome in Manchester yet seem oblivious to this fact."
Manchester United Supporters Trust released a statement saying: "What supporters should expect at the very least now is some clarity and an end to this process. Furthermore, the outcome must include new investment into the club. It cannot be solely about the interests of shareholders, whether existing or new.
"We call upon all parties to put Manchester United interests before their own interests.
"If the reports are true regarding Ineos obtaining a 25% stake in our club, there are a number of questions around the transaction which need clarity before supporters can make any judgement on its merits."
The Glazer family, who bought United for £790m in 2005, announced in November 2022 they were considering selling.
United supporters have held demonstrations against the Glazer family inside and outside Old Trafford.
The club have lost six of their 11 games this season in all competitions and sit 10th in the Premier League.
Ratcliffe visited Old Trafford in March alongside Ineos officials Sir Dave Brailsford, Rob Nevin and Jean Claude Blanc.
Ineos already owns French Ligue 1 club Nice and Swiss club Lausanne.
Its sporting portfolio also includes high-profile sailing team Ineos Britannia – led by Sir Ben Ainslie – which is aiming to win the 2024 America's Cup for Great Britain.
Ineos also has a five-year partnership with Formula 1 team Mercedes – where it has a 33% minority stake – and took over the British-based Team Sky in cycling in 2019.
Ratcliffe, who says he is a lifelong United fan, tried and failed to buy Chelsea last year.




Welcome to Triple Star News! I am your Editor, your go-to source for staying informed and up to date on a wide array of themes and topics. My dedicated team of journalists and reporters works tirelessly to bring you timely and comprehensive news coverage that caters to your diverse interests and curiosities. From current events and politics to technology, entertainment, health, and beyond, I've got you covered. I pride myself on delivering information in a clear, concise, and engaging manner, accessible to readers of all backgrounds. Join me on Triple Star News and embark on a journey of discovery, staying informed, and expanding your horizons. Let the world unfold before your eyes.