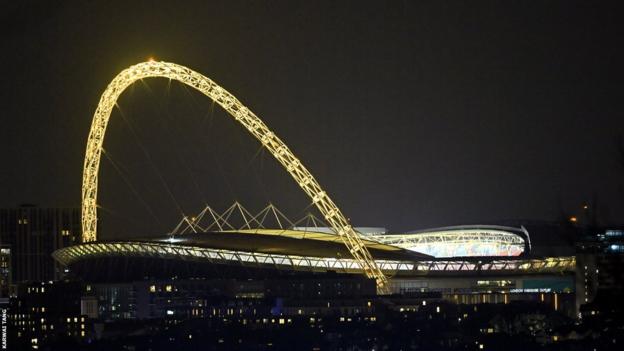 The Football Association is unlikely to light the Wembley arch in the colours of the Israel flag because of fears of a backlash from some communities.
The UK government has written a letter encouraging governing bodies in sport to "appropriately" mark the attacks in Israel this week with shows of support for the victims.
The government has not specifically asked the FA to light the Wembley arch.
Rather than lighting the arch, BBC Sport understands a message of peace and unity will be conveyed before England face Australia in a friendly on Friday.
The FA has been in touch with Football Australia to confirm there will be some form of acknowledgement for the victims before kick-off.
Last year the FA lit the arch in the blue and yellow colours of the Ukraine flag in solidarity with the country after it was invaded by Russia.
The death toll in Israel from Hamas' attacks has reached 1,200, while more than 1,100 people have been killed by Israeli air strikes on Gaza.
The FA, Premier League and individual clubs have not yet commented about the ongoing conflict between Israel and Hamas.
An FA meeting took place on Wednesday and a decision on how to mark the attacks is expected to be made on Thursday morning.
Some in attendance told FA senior executives that lighting the arch could be divisive.
It is understood senior officials are wary of a perception that they might be taking sides in the Middle East conflict.
Officials from the Department for Culture, Media and Sport (DCMS) wrote to major sports governing bodies on Wednesday asking them to show support for victims of Hamas' attacks and referenced precedents in sport.
"In the light of the attacks in Israel on behalf of the secretary of state we would encourage you to mark the events appropriately in line with previous events where sport has come together," the letter read.
The former FA chairman David Bernstein, who is Jewish, told the Daily Telegraph he was "shocked and hurt" by the governing body's lack of response to the attacks.
On Tuesday at Uefa's headquarters in Nyon, FA chair Debbie Hewitt told BBC sports editor Dan Roan that the association was "certainly considering" some kind of show of support for "innocent victims" after "the horrific scenes over the weekend".
"As we get closer to the game on Friday we will give some thought as to how best to recognise our concern" she said.
England manager Gareth Southgate is likely to be asked about the issue when he addresses the media on Thursday.
Uefa or Fifa have yet to issue statements about the violence and nor has the Premier League, with no matches until after the international break.
Meanwhile, Arsenal have spoken to their squad about posting messages around the conflict on social media.
Players have been told about social ramifications of issues they are posting about and have been advised and guided on the implications.
Ukraine full-back Oleksandr Zinchenko published a post saying 'I stand with Israel' while Egypt midfielder Mohamed Elneny has changed his profile pictures on social media to a Palestine flag.
Neither player has been told to remove the posts or profile pictures but they have been made aware of what the reaction and impact could be from those who view them.
Arsenal are also hosting an anti-semitism workshop on Thursday aimed at educating staff on the issue, although that was pre-planned a number of months ago as opposed to a reaction to the recent conflict.




Welcome to Triple Star News! I am your Editor, your go-to source for staying informed and up to date on a wide array of themes and topics. My dedicated team of journalists and reporters works tirelessly to bring you timely and comprehensive news coverage that caters to your diverse interests and curiosities. From current events and politics to technology, entertainment, health, and beyond, I've got you covered. I pride myself on delivering information in a clear, concise, and engaging manner, accessible to readers of all backgrounds. Join me on Triple Star News and embark on a journey of discovery, staying informed, and expanding your horizons. Let the world unfold before your eyes.