The world of football has united in tribute to Manchester United and England legend Sir Bobby Charlton, who died on Saturday.
Charlton, who "passed peacefully in the early hours of the morning" after being diagnosed with dementia in 2020, lifted three league titles, an FA Cup and a European Cup in a distinguished 17-year career at Old Trafford.
He also scored 49 goals in 106 appearances for the Three Lions, famously helping them win the World Cup in 1966.
"For me, [he is] England's greatest ever player," former England striker Gary Lineker told BBC Radio 5 Live.
"You can only judge players that you have seen in your lifetime and I was lucky enough to see him play when I was a young boy.
"He was one of my heroes, one of many people's heroes."
Part of Manchester United's so-called 'Holy Trinity' alongside club legends Denis Law and George Best, Charlton scored twice in a famous 4-1 extra-time win against Benfica in the 1968 European Cup final as Sir Matt Busby's team became the continent's first English champions.
He was England's record goalscorer until 2015, when Wayne Rooney surpassed the Ashington-born attacking midfielder's tally of 49.
"When you read about everything he has done in the game, how many trophies he has won, appearances he has made and goals he has scored, he could have been excused for having a little bit of arrogance about him," said former Newcastle and England striker Alan Shearer.
"But there was absolutely none of that. If you hadn't watched a game of football and didn't see him play, you would just see him as a normal guy. I don't think you will ever hear anyone say a bad word against him."
England manager Gareth Southgate also paid a heartfelt tribute to Charlton and said: "The privilege of meeting him on several occasions allowed me to understand his personal pride and emotion in having represented England, and simply confirmed in my mind his standing as one of the gentlemen of the game.
"The world of football will unite in sadness at losing an undisputed legend."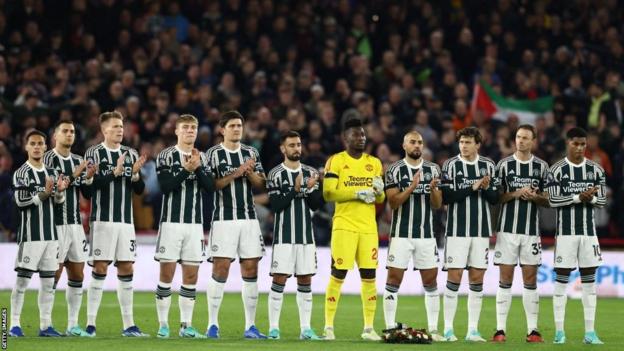 "[It's] very sad news," Red Devils manager Erik ten Hag said prior to his team's Premier League match at Sheffield United on Saturday evening.
"I never had the honour to meet him, but from what I read and heard he was an outstanding person, on and off the pitch.
"If you achieve what he did and stay so humble, it is outstanding. You are not only a legend, you are a giant.
"Not only the footballing world is losing a big person, but the whole of society and the whole world."
Club captain Bruno Fernandes laid a wreath in Charlton's memory before kick-off at Bramall Lane, while both sets of players and fans took part in a minute's applause.
Former and current United players lead tributes
Manchester United players past and present were quick to pay their respects to Charlton, who survived the Munich air disaster in 1958 which tragically claimed the lives of 23 people, including eight of his United team-mates.
"Sir Bobby was the reason I had the opportunity to play for Manchester United," said David Beckham, who made his first-team debut for the club aged 17 after attending Charlton's soccer school. "I owe everything to Sir Bobby."
Manchester United record goalscorer Rooney, who took charge of his first game as Birmingham City manager at Middlesbrough on Saturday, said: "I'm still in shock. Coming out at half-time for the second half, we heard the news.
"Winning the World Cup in '66 and the European Cup in '68 after what he'd been through with the Munich disaster – he's had a great life. He's a great, an absolute legend of the game.
"He's an iconic figure around the world," added Middlesbrough boss Michael Carrick, who spent 12 years at Old Trafford as a player.
"I was lucky enough to get to know him and feel his support and feel what Manchester United meant to him. It was a position I never took for granted."
Former Manchester United goalkeeper Alex Stepney, another survivor of the crash at Munich's old Riem airport, wrote on X (formerly Twitter): "A huge loss for the game, a magnificent player and man. So many great times shared. Bless you Bobby, it was a privilege."
The Red Devils paid their own fond tribute, describing Charlton as "one of the greatest and most beloved players in the history of our club".
"Sir Bobby was a hero to millions, not just in Manchester, or the United Kingdom, but wherever football is played around the world," they said.
"He was admired as much for his sportsmanship and integrity as he was for his outstanding qualities as a footballer; Sir Bobby will always be remembered as a giant of the game."
What the rest of football said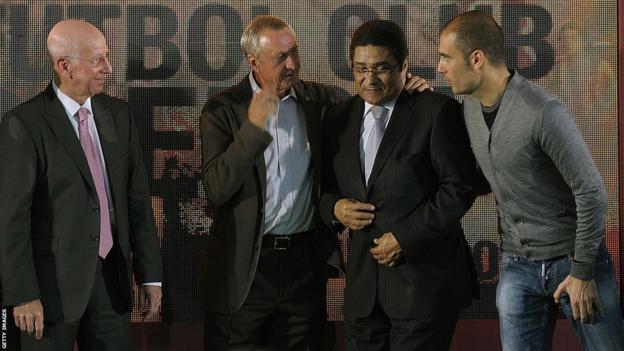 Pep Guardiola, Manchester City manager: "A huge loss for his family and for the Manchester United family and for English football, European football.
"A big legend. On behalf of Manchester City our condolences to his family, Manchester United and for everyone because we have the Premier League that we have because of these type of people."
Geoff Hurst, who scored a hat-trick in the 1966 World Cup final: "Very sad news today. We will never forget him & nor will all of football. A great colleague and friend. He will be sorely missed by all of the country beyond sport alone."
Prince William, English Football Association president: "Sir Bobby Charlton. First Division Champion. European Champion. World Champion. Gentleman. Legend. A true great who will be remembered forever. Thank you Sir Bobby."
Rio Ferdinand: former England and Manchester United defender: "Sir Bobby. Icon, Legend, Great… these words are thrown around by all of us to many who 100% don't deserve them, especially when you compare them to a man of Sir Bobby's calibre."
Gary Neville, former Manchester United defender: "One of the original Busby Babes. He won youth cups at Man Utd then won the European Cup, the World Cup and in the modern era he was a director of the club. No doubt [he was] English football's greatest player and ambassador. A champion on and off the pitch."
Martin Keown, former Arsenal defender: "He was a truly wonderful player and an immense talent. He's been a great ambassador for Manchester United in recent years. The way he carried himself – he was such a dignified man and he's going to be remembered for a very long time."
Your own tributes
John, Brampton: Bobby Charlton was my boyhood hero – and has been an inspiration ever since – a gentleman and a great sportsman. Thank you Bobby for all the magic moments you gave to so many English and Man Utd supporters.
Stan: Privileged to see all of Bobby's World Cup goals live on a black and white TV. He was a schoolboy's hero in the 60 and 70s. So many kids will have screamed his name scoring in the schoolyard or against the garage door!
Jay, Milton Keynes: 106 caps and 49 goals in a time where friendlies didn't count says it all. England's best ever. Thank you Sir Bobby Charlton.
David: Sir Bobby Charlton was the nearest in British football to royalty. The greatest ambassador we had. Even those not interested in football very much knew of him. Rest In Peace to a genuine legend.
Mark, Salford: Legend is a word used way, way too loosely in the world of football and sport. What a legend this man was both for the club I love and our country. RIP Sir Bobby Charlton, a true gentleman and wonderful, wonderful player. They don't make them like Sir Bobby anymore.
Katie B, Stratford: Sir Bobby epitomised the very best, not only of United, but of football itself. A true gentleman.
Welcome to Triple Star News! I am your Editor, your go-to source for staying informed and up to date on a wide array of themes and topics. My dedicated team of journalists and reporters works tirelessly to bring you timely and comprehensive news coverage that caters to your diverse interests and curiosities. From current events and politics to technology, entertainment, health, and beyond, I've got you covered. I pride myself on delivering information in a clear, concise, and engaging manner, accessible to readers of all backgrounds. Join me on Triple Star News and embark on a journey of discovery, staying informed, and expanding your horizons. Let the world unfold before your eyes.