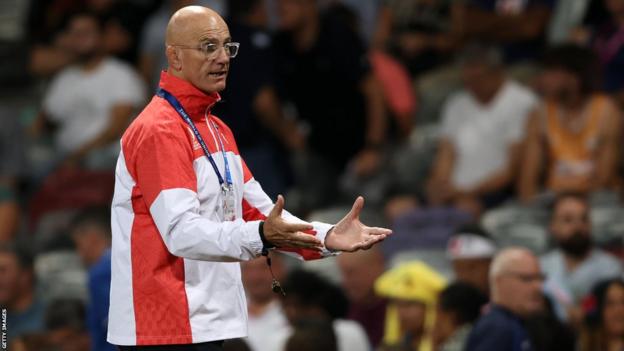 Venue:
Sky Stadium, Wellington
Dates:
Friday, 20 October
Kick-off:
07:00 BST
Coverage:
Live text commentary on the BBC Sport website and app.
England's transition from former head coach Simon Middleton to his successor John Mitchell has lasted close to six months but will soon be complete.
Mitchell is set to join up with England's women on Thursday, after his role as defence coach for Japan's men's team ended with a pool-stage exit at the Rugby World Cup in France.
Interim head coach Louis Deacon took charge of the Red Roses for their recent two-Test series against Canada, helping to prepare England for the inaugural WXV tournament with two wins.
Before England's WXV1 opener against Australia in Wellington on Friday, Deacon said of Mitchell: "He is very much the head coach so he will certainly be the head coach.
"He would initially want to observe, I imagine, to see where things are at and input where he sees fit.
"We are very much looking forward to him joining us. He is a very experienced coach and will give a lot to the group."
Deacon reflects on 'great learning experience'
Mitchell, 59, was in charge of the All Blacks during the 2003 men's World Cup, when they lost to Australia in the semi-final, before a stint with the USA men's team in 2016.
The New Zealander has been coaching consistently in the professional game since 1996, before Deacon had even made his debut for Leicester Tigers.
The 43-year-old welcomed Mitchell's arrival and reflected positively on his first stint as a head coach, albeit on a temporary basis, which included two comfortable home wins over Canada.
"I have enjoyed it, it is a different role and something I needed to do at some point," Deacon added.
"It was an area of my coaching which I needed to look at and progress, certainly from a leadership position. I enjoy leading a group of players and staff, it has been a great learning experience for me."
Although Mitchell has been giving virtual input from France, he chose to let Deacon grow the new environment in his absence.
Mitchell returns to his native country to take charge of England at WXV, a new tournament which includes games against Australia, Canada and world champions New Zealand.
The Red Roses head into the competition as the top-ranked side having not lost since the World Cup final against the Black Ferns in 2022, with their most recent game against Australia being a convincing victory at the quarter-final stage.
"We have had a couple of inputs from him [Mitchell] and he has been working a little bit with the coaching staff as well, but at the moment he is just the figure we haven't seen and heard little glimpses of," centre Megan Jones said.
"It will be nice to put a face to all his magical words and coaching he wants to put into play. I think there is going to be a little bit of apprehension amongst the group and also excitement.
"I want to hear all these amazing experiences he has had and what he is going to put into this group and how he is going to make us a phenomenal team."
Line-ups
England: Rowland; Dow, Jones, Heard, Breach; Aitchison, Wyrwas; Botterman, Powell, Muir, Galligan, Aldcroft, Allen, Packer, Matthews.
Replacements: Atkin-Davies, Carson, Clifford, Beckett, Hibbert-Jones, Hunt, Bridger, Sing.
Australia: Moleka; Stewart, Friedrichs, McKenzie, Wong; Dallinger, Morgan; Hoy, Naden, Karpani, Leonard, Codey, Palu, Chancellor, Leaney.
Replacements: Talakai, Cheatham, Robinson, Lafai, Marsters, Dougherty, Smith, Miller.
Welcome to Triple Star News! I am your Editor, your go-to source for staying informed and up to date on a wide array of themes and topics. My dedicated team of journalists and reporters works tirelessly to bring you timely and comprehensive news coverage that caters to your diverse interests and curiosities. From current events and politics to technology, entertainment, health, and beyond, I've got you covered. I pride myself on delivering information in a clear, concise, and engaging manner, accessible to readers of all backgrounds. Join me on Triple Star News and embark on a journey of discovery, staying informed, and expanding your horizons. Let the world unfold before your eyes.