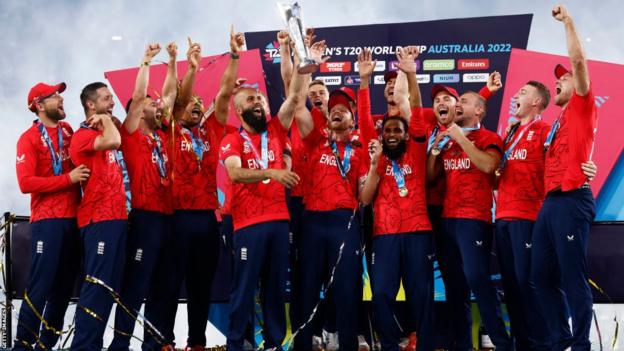 Cricket could be in the Olympics for the first time since 1900 after organisers recommended it to be part of the 2028 Los Angeles Games.
Twenty20 cricket will be put forward for approval to the International Olympic Committee for a vote next week.
Flag football, a non-contact version of American football, and squash are set for their Olympic debuts in 2028.
The other recommendations are baseball/softball and lacrosse, which were both left out for Paris 2024.
"They're relevant, innovative and community-based, played in backyards, schoolyards, community centres, stadiums and parks across the US and the globe," said LA28 chairperson Casey Wasserman.
International Cricket Council chairman Greg Barclay said: "While this is not the final decision, it is a significant landmark towards seeing cricket at the Olympics for the first time in more than a century."
The final decision is set to be made when International Olympic Committee members meet in Mumbai next week.
There is expected to be both a T20 men's and women's tournament at the LA Games.
Host cities are able to propose sports they would like added to the Olympic programme when they stage the event.
Tokyo 2020's organising committee was allowed to add surfing, sport climbing, karate, baseball/softball and skateboarding when it hosted the event.
Cricket's only previous appearance at the Olympics was at Paris 1900, one of only 18 sports at the time.
Great Britain beat France in the final – which was also the only match after the Netherlands and Belgium withdrew.
Each side had 12 players, instead of the traditional 11, and it was played with a Test format but over two days instead of five.
Great Britain were represented by the Devon and Somerset Wanderers, while the French team was made up mostly of British citizens living in Paris.
The richest sports league in the world, the National Football League – which governs American football – was part of the flag football bid.
The NFL's version of flag football is five-a-side, on a smaller pitch – 30 by 70 yards – and no contact is allowed.
Instead of tackling, players need to pull a flag off the person with the ball.
Squash has been trying to get into the Olympics for years. For Paris 2024, it was beaten by breakdancing. In Tokyo 2020, it lost out to climbing, surfing and skateboarding.
It was also rejected for London 2012 and Rio 2016.
Welcome to Triple Star News! I am your Editor, your go-to source for staying informed and up to date on a wide array of themes and topics. My dedicated team of journalists and reporters works tirelessly to bring you timely and comprehensive news coverage that caters to your diverse interests and curiosities. From current events and politics to technology, entertainment, health, and beyond, I've got you covered. I pride myself on delivering information in a clear, concise, and engaging manner, accessible to readers of all backgrounds. Join me on Triple Star News and embark on a journey of discovery, staying informed, and expanding your horizons. Let the world unfold before your eyes.