Two-time Olympic champion Caster Semenya says she is "not going to be ashamed" of being "different", and will "fight for what is right" amid her ongoing dispute with athletics authorities.
Semenya, 32, was born with differences of sexual development (DSD) which mean she has an elevated level of testosterone – a hormone that increases muscle mass and strength.
The South African cannot compete in female track events without taking testosterone-reducing drugs.
Semenya said recently she was turning her attention to "winning battles against the authorities" rather than collecting medals, with competing at the Paris 2024 Olympics no longer a goal.
She said it was about "fighting for the upcoming generation because there are a lot of kids affected by the same ruling".
In a wide-ranging interview with BBC Breakfast's Sally Nugent, Semenya says:
She felt she was "different" from the age of five but "embraces" her differences

She will not conform "to be accepted"

She wants to empower women to "have a voice"

"Leaders" in sport are "turning women against women"
'I will embrace my differences'
Under regulations introduced in 2018, athletes with DSD were only allowed to compete in female track events between 400m and the mile if they reduced their testosterone levels.
In March, World Athletics ruled that DSD athletes must now have hormone-suppressing treatment for six months before being eligible to compete in all female events.
"For me I believe if you are a woman, you are a woman," said Semenya, who won Olympic 800m gold in 2012 and 2016 and is a three-time world champion over the same distance.
"No matter the differences you have. I have realised I want to live my life and fight for what I think and I believe in myself.
"I know I am a woman and anything that comes along with it just accept it."
Semenya ran in the 5,000m at last year's World Championships in Oregon but failed to qualify for the final.
In July, the European Court of Human Rights (ECHR) ruled in her favour in a case related to testosterone levels in female athletes.
"At the end of the day, I know I am different. I don't care about the medical terms or what they tell me. Being born without a uterus or with internal testicles. Those don't make me less of a woman," added Semenya.
"Those are the differences I was born with and I will embrace them. I am not going to be ashamed because I am different. I am different and special and I feel great about it.
"It comes with why we fight for women's sport. The importance of women's sport is not being taken seriously and we need to take charge of our own bodies. Decide what is right for us. Not another gender deciding what we should look like.
"If we are woman enough or not, it is up to us. We know and believe in what is right, then why must we stop."
The case at the ECHR was not against sporting bodies or DSD rules – but specifically against the government of Switzerland for not protecting Semenya's rights and dates back to a Swiss Supreme Court ruling three years ago.
The ECHR found the Swiss government did not protect Semenya from being discriminated against when its Supreme Court refused to overturn a decision by the Court of Arbitration for Sport (Cas), which upheld the World Athletics rules.
The case has now been referred to the Grand Chamber of the ECHR for a final ruling following a referral request from the Swiss government.
'I am not going to be somebody I am not'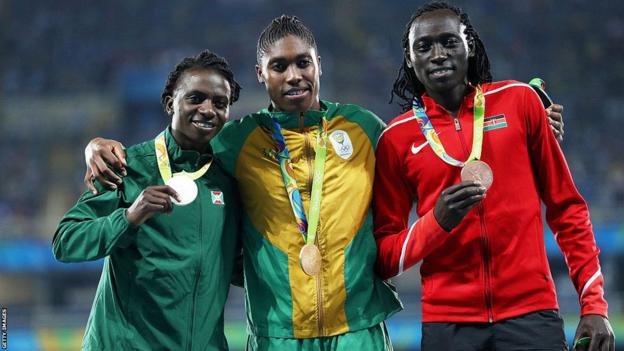 Semenya has argued that taking testosterone-reducing medication could endanger her health and that the ruling denied her and other athletes with DSD the right to rely on their natural abilities.
She told BBC Breakfast that she knew she was "different" from the age of five but, in her autobiography The Race To Be Myself, revealed she found out she "did not have a uterus or fallopian tubes" at the same time as "the rest of the world" after a gender test in 2009.
She says she has "nothing to hide", adding: "I am a woman and have a vagina just like any other woman.
"I am living a different life and I will continue living that, as that is what makes me feel good. I am not going to be somebody I am not, as I have to fit in to be accepted."
Last week, Semenya said she had achieved all she ever wanted on the track, and now wants to "pave the way and make sure each and every young girl is treated well".
"My future is to fight injustice, fight for inclusivity and diversity," she said.
"For me, I'm not going to allow leaders who come for the selfish means into our business to destroy it. I'm about empowering women and making sure they have a voice.
"At the moment, I don't see a lot of women voicing out if they have problems or something to say. Each and every woman out there should fight for their own. I'll always fight for what is right, I know what is right, I know how things are supposed to be done. Let's wake up as women and fight for what is right."
She added: "[Sporting leaders] are turning women against women. If you say you're acting in the best interests of athletes, then do that. It's not up to you to decide what gender should look like, what sex should look like. Govern, make money, promote sport. Very clear message and very loud – do the job, promote the sport and let us sports people entertain."
Last week, World Athletics said in a statement to Reuters: "World Athletics has only ever been interested in protecting the female category. If we don't, then women and young girls will not choose sport. That is, and has always been, the federation's sole motivation."
A spokesperson told the BBC: "World Athletics has 15 years of data, observations and information directly from DSD athletes in our own sport that show high testosterone levels do provide an unfair advantage in the female category – and that our guidelines on testosterone thresholds are necessary, reasonable, and proportionate in our aim to protect the integrity of the female category."
On Tuesday, Semenya also spoke to BBC Woman's Hour and was asked about having an unfair advantage over women not born with DSD, with the 2016 Rio Olympics women's 800m final referenced.
In that race, the three medallists – Semenya, Francine Niyonsaba of Burundi and Kenya's Margaret Nyairera Wambui – were all born with DSD. None were eligible for the delayed Tokyo Olympics in 2021.
Semenya responded that she felt there was "never any unfair advantage" and that "sports have never been fair because of genetics".
Questioned further on the World Athletics statement and research on high testosterone levels, Semenya replied: "We're not doing anything extraordinary that a women cannot do on the track."
She added: "There's nothing that I feel in my body that's different, that makes me feel like I'm a man. All women train to perform. If it gives me advantage, why am I not running any times close to men?"
Welcome to Triple Star News! I am your Editor, your go-to source for staying informed and up to date on a wide array of themes and topics. My dedicated team of journalists and reporters works tirelessly to bring you timely and comprehensive news coverage that caters to your diverse interests and curiosities. From current events and politics to technology, entertainment, health, and beyond, I've got you covered. I pride myself on delivering information in a clear, concise, and engaging manner, accessible to readers of all backgrounds. Join me on Triple Star News and embark on a journey of discovery, staying informed, and expanding your horizons. Let the world unfold before your eyes.