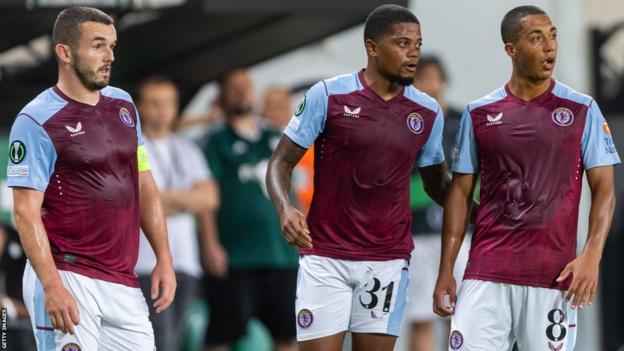 Aston Villa women are "dreading" playing on Sunday because of issues with the club's "clingy" shirts, says football commentator Jacqui Oatley.
Villa's male players have reportedly told the club the shirts are retaining sweat, making them uncomfortable.
The new home claret and blue shirts, made by British sportswear group Castore, are the worst affected – noticeably changing colour in games.
"This is going to be a big problem," Oatley told BBC Newsbeat.
Aston Villa women are due to wear the kit in their Women's Super League opener against Manchester United on Sunday, which kicks off at 12:30 BST and is live on BBC Two.
BBC Sport has been told several female players are unhappy about the prospect of wearing the kit.
It is understood Villa highlighted concerns about the new strips to Castore before the start of the season. The club are working closely with the company and have asked it to come up with a solution for both the men's and women's teams as soon as possible.
"They've got four TV games coming up," said Oatley. "Normally they'd absolutely relish those games and look forward to them. But they're actually dreading it because they're really conscious about how they're going to look in this wet, clingy kit – for obvious reasons."
During most of Villa's men's matches this season, players have changed their soaked shirts at half-time.
Oatley said the women's team "absolutely hated" playing in the kit during a pre-season friendly with Chelsea.
"You can imagine, as a female athlete, you have plenty enough to think about just being the best you can be on the football field without thinking about getting sweaty and your kit clinging to you, both from a performance aspect as it is with the men but also from an aesthetic aspect," Oatley said.
"And, as we know, women are different specimens when it comes to our bodies and it can really affect us and how we perform if we're constantly thinking about how we look, or a top might be clinging to our breasts and also our body shapes.
"These are genuine issues for women which you would have thought somebody would have thought through before they released this kit.
"But it seems perhaps that wasn't the case, because they didn't think about it for the men so I'm quite sure they won't have thought about it for the women."
In May 2022, Villa announced they had signed a "landmark multi-year" deal with Castore.
BBC Sport has approached Villa and Castore for comment.
On Wednesday, Aston Villa manager Unai Emery was asked about the shirts following his side's Carabao Cup defeat by Everton. While he did not give a direct response to the question, Emery's translator did acknowledge "there is a situation".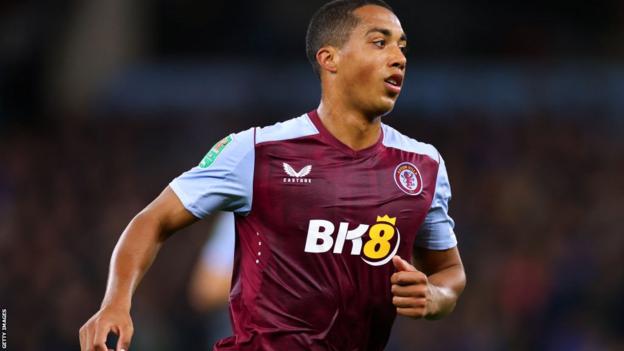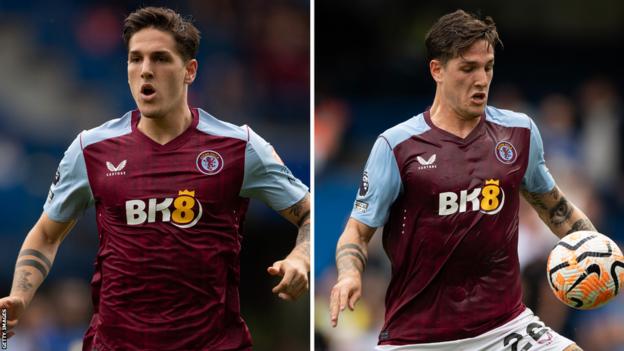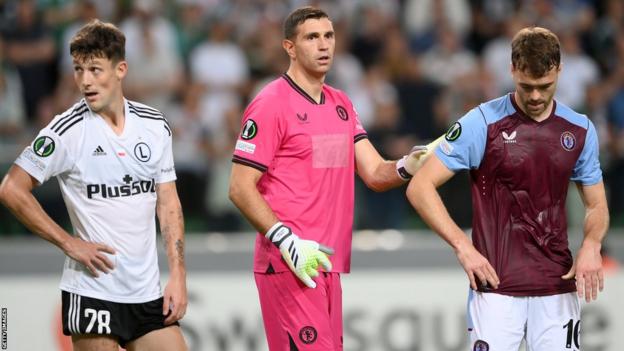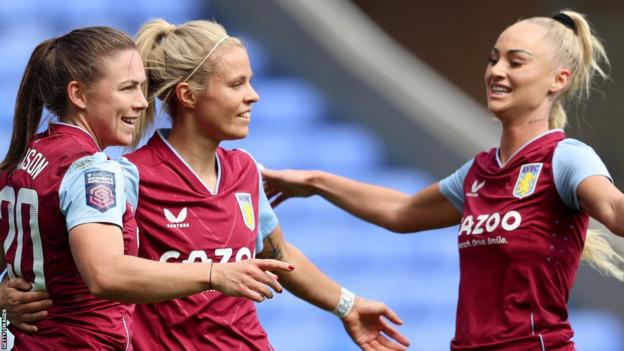 Welcome to Triple Star News! I am your Editor, your go-to source for staying informed and up to date on a wide array of themes and topics. My dedicated team of journalists and reporters works tirelessly to bring you timely and comprehensive news coverage that caters to your diverse interests and curiosities. From current events and politics to technology, entertainment, health, and beyond, I've got you covered. I pride myself on delivering information in a clear, concise, and engaging manner, accessible to readers of all backgrounds. Join me on Triple Star News and embark on a journey of discovery, staying informed, and expanding your horizons. Let the world unfold before your eyes.